Residential Water Treatment & Solutions
8 Reasons to Choose Diamond H2O
Our highly trained and friendly staff includes

7 fully insured and licensed plumbers

5 WQA master water specialists

3 DNR-licensed pump installers

2 certified water specialists

All our technicians have been trained to install, service and repair most makes and models of water softeners, filters, water heaters, and pressure tanks.

We offer low rate financing options so that your family's health is affordable.

Our custom "Keep Full" water softener salt delivery program means that you never have to think about your water softener again – we do the work for you!

Our convenient location and drive-through pick-up for salt and bottled water up at LOW prices – we pass the savings on to you because we care!

We have a beautiful 2,000 square foot showroom – let one of our experts walk you through the ins and outs of water treatment options.

Our large inventory of parts and supplies for most makes and models means that we can get the problem fixed right away!

We take pride in manufacturing all of our water treatment systems locally, right here in Greenville, Wisconsin.
Salt Service
Our Diamond H2O salt products are formulated with all of the care and expertise we put into every part of Diamond H2O. They can be used in any brand water conditioning unit.
Water Softener Salt Delivery
Our high quality Diamond H2O salt products are available for delivery! Simply order as needed, or take advantage of our Keep Fill Program. We'll automatically deliver the salt when you need it, so you'll never have to think about it.
Additionally, we'll test and change your filter as needed providing you on the spot service to keep your water soft, clean and pure.
Pickup
Our Diamond H2O salt station is conveniently located near the Fox River Mall and Appleton airport. It features an indoor drive-through pickup bay that is open all Diamond H2O business hours.
Pickup means you get to save money on every bag of salt you purchase from Diamond H2O.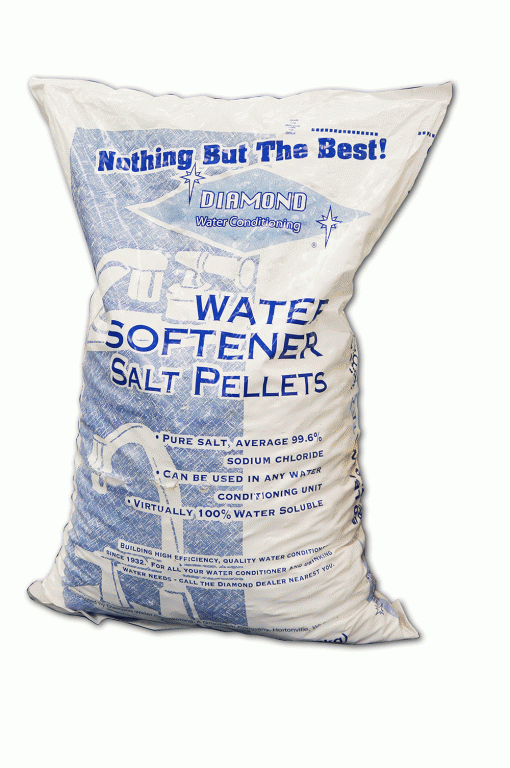 Inspection Service
Diamond H2O also performs regular quality inspections to make sure your water is as clean and pure as possible, and that your household water treatment systems are running at their highest efficiency.
19-Point Inspection Standard Service
Our comprehensive 19-point inspection covers every aspect of your household water system.
We inspect the following:
Bypass system
Meter assembly
Injector condition
Screen condition
Pistons/seals/valves condition
Timer functions
Gallons/grains capacity
Backwash function
Slow rinse function
Fast rinse function
Brine fill function
Power connection
Resin tank condition/size/age
Discharge tube compliance status
Tank condition/size
Brine assembly
Brine float condition
Salt level
Water level
9-Point Drinking Water System Inspection
Our 9-point drinking water system inspection diagnoses problems you may have with your drinking water system, along with solutions. It checks for the following:
Feed side TDS level

Tank air volume

Pre-Filter change date

Membrane change date

Air gap compliance

Feed water valve condition

Sanitized system

Drain restrictor

O-ring lubrication status