Protecting your home from everything life can throw your way doesn't have to be complicated—but it needs to be effective.
That's why we're breaking down the reality of water damage, and what you can do to avoid it (while saving some money along the way).
Did you know?
While not often talked about, homeowners are six times more likely to incur a loss from water damage than burglary. In fact, it's the 2nd most common homeowners' insurance claim, resulting in an average cost of $8,861.
That's why, just like installing a home security system deters theft, installing a water management system in your home that can detect leaks and shut-off water as needed provides the best protection against unexpected water damage.
As an incentive to avoid costly insurance claims, many insurance providers offer discounts on premiums for installing a DROP Automatic Water Shutoff System.
DROP smart water systems provide homeowners multiple benefits, including leak detection, automatic water shut-off, and increased water use efficiency. Often families with a DROP system will use up to 20% less water, saving an average of $380 annually. Those savings combined with insurance discounts mean that the DROP Home Protection Water System can pay for itself, while providing homeowners with peace of mind.
Water Damage by the Numbers
Let's take a look at some startling statistics about water damage:
14,000 people in the U.S. experience a water damage emergency at home or work each day
98% of basements in the U.S. will experience some type of water damage at least once
37% percent of U.S. homeowners claim to have suffered losses from water damage
The average washing machine hose fails at 7 to 8 years
75% of water heaters fail before they are 12 years old
If you want to avoid becoming part of these statistics, there's no better time than the present to take control of your home's water systems and avoid costly water damage. Don't come home to a flooded basement or other unpleasant watery surprise.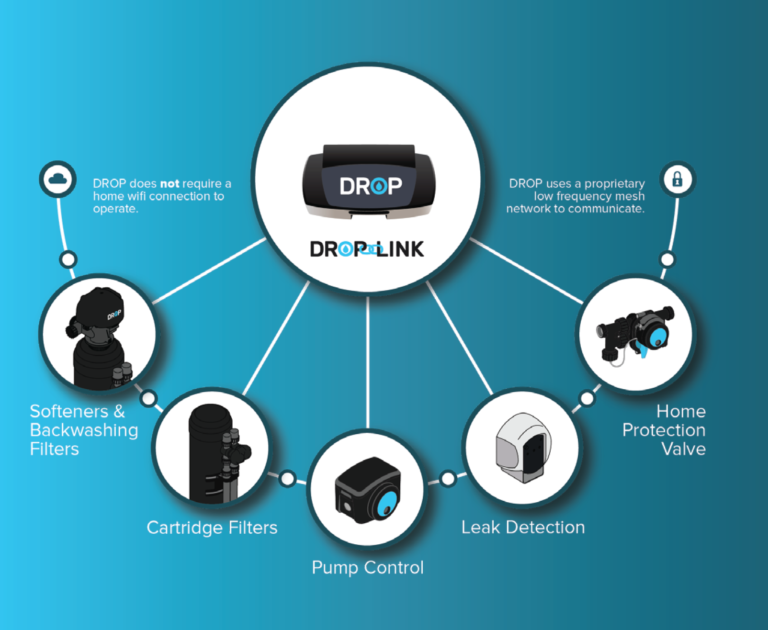 Prevention & Damage Mitigation is Key: DROP Connect Smart Water Monitor System
DROP Hub
Integrates with all residential water treatment devices & all DROP devices for one easy-to-manage center of control
Provides text, email and push notifications of vital water system information
Automatic updates no matter where you are
Battery back-up ensures DROP continues working and your home remains protected even during power outages
DROP Home Protection Valve
Automatically shuts off water when a problem is detected
Monitors water pressure and flow
Provides backflow protection
Aids in water conservation & saves money on your water bill
DROP Leak Detectors
Senses leaks and monitors ambient temperatures all over your home
Real time alerts ensure property is protected from extensive water damage
Place anywhere in your home where there is a high risk of leaks
Can be set to shut off water main remotely when leak is detected
Completely wireless (powered by batteries with a 5-year life)
DROP App
You have the information you need and are in full control

Turn water on or off remotely

Receive real-time notifications of leaks, temperature changes, instances of increased water pressure or continuous flow, etc.

90-day historical water data

Now's the time to protect your home with DROP
There are no guarantees in life, and the last thing you want to come home to is water damage that you could have avoided. Installing a DROP Water System in your home provides trusted protection against water damage while providing you with discounted insurance premiums from some of the top insurance providers.
Do you have insurance through any of these providers? If you do, check with your local provider to see if you're eligible for a discount when you install a DROP water system.
Learn more about the benefits of installing a DROP Automatic Water Shutoff System in your home and all that it has to offer please contact Diamond H2O: 920.757.5440 or [email protected]
You've only got one home—protect it with DROP today.